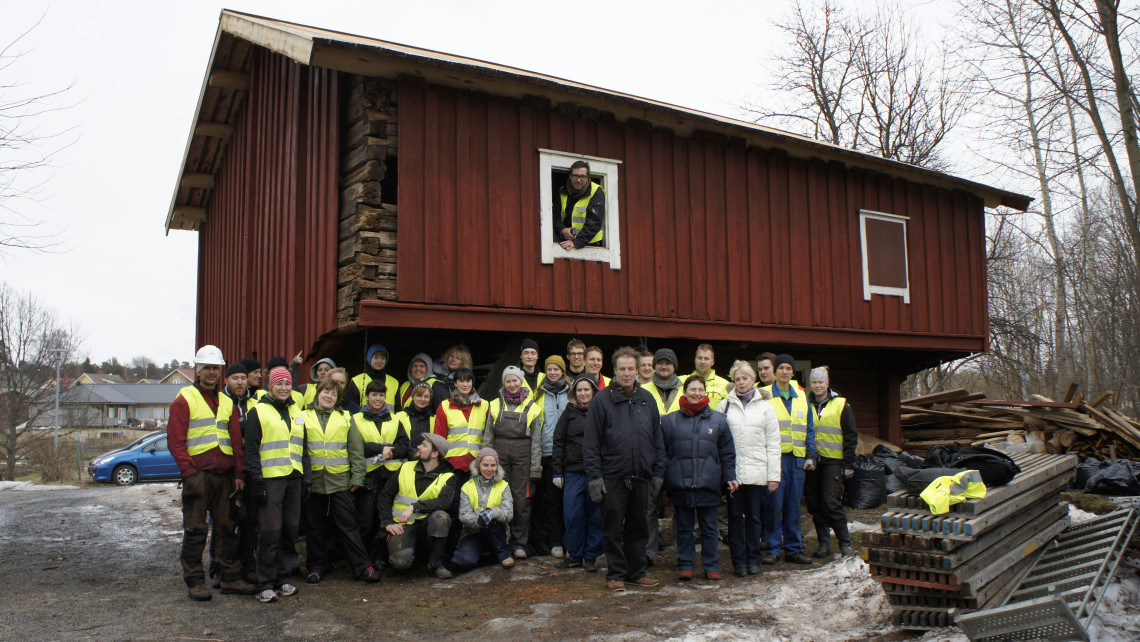 Wooden Roofs and Traditional Surface Treatment of Wood in Ekenäs, Finland — Intensive Course Spring 2013
The object of the intensive course is located on the Campus Ekenäs of Novia University of Applied Sciences, next to the old manor house of Ekenäs Ladugård. Its origin is unknown, but according to some local historians it was moved to its present location in the 1950's together with another similar building in the hopes of establishing an open air museum on the historic site of the manor. It is a rather modest version of a vernacular two storey storage building type of massive log construction. The kind of building can be found on old farmsteads in Sweden and Finland and is called loft in Swedish1 referring to the second storey and the balcony or corridor on the front which is accessed from one end and leads to the rooms on the top floor. Lofts of three units often formed a decorative gateway into the farmyard. Both storeys were generally used for storage purposes, but quite often the young people would move out of the crowded farmhouse in the summer and sleep in the top rooms of such storage buildings instead.
Good preparations before the intensive week minimized the risk of anything going wrong. Novia students had made the roofing material ready before the guests arrived, and this saved a lot of time on the roof. The time between the first nail and the last nail took about 4 days. This means 2 days, or 10 working hours per person; in other words 30 x 10 = 300 working hours altogether—some of this time was spent on repairing the boarding on the façade.
On Thursday the roof was finished, and in the afternoon of the same day we started to paint the walls and clean the site. This together with dismantling of the scaffolding took the whole group about 2 days, also known as 10 work hours per person, or 300 hours altogether.
The project kept to its schedule just perfect and everything went according to plans and without injuries.
Program April 14–20, 2013
Sunday: arrival in Helsinki, visit in open air museum, introduction to the program, dinner;
Monday: lecture, practical work, paint workshop, sauna;
Tuesday: practical work, paint workshop, sauna;
Wednesday: practical work, paint workshop, excursion, dinner;
Thursday: lecture, practical work, paint workshop, sauna;
Friday: lecture, finishing projects and summing up, farewell sauna;
Saturday: breakfast, departure.
Intensive Course 2013-1 No. 2 Ekenäs
Wooden Roofs and Traditional Surface Treatment of Wood — Intensive Course No. 2
Ekenäs, Finland, April 14–20, 2013