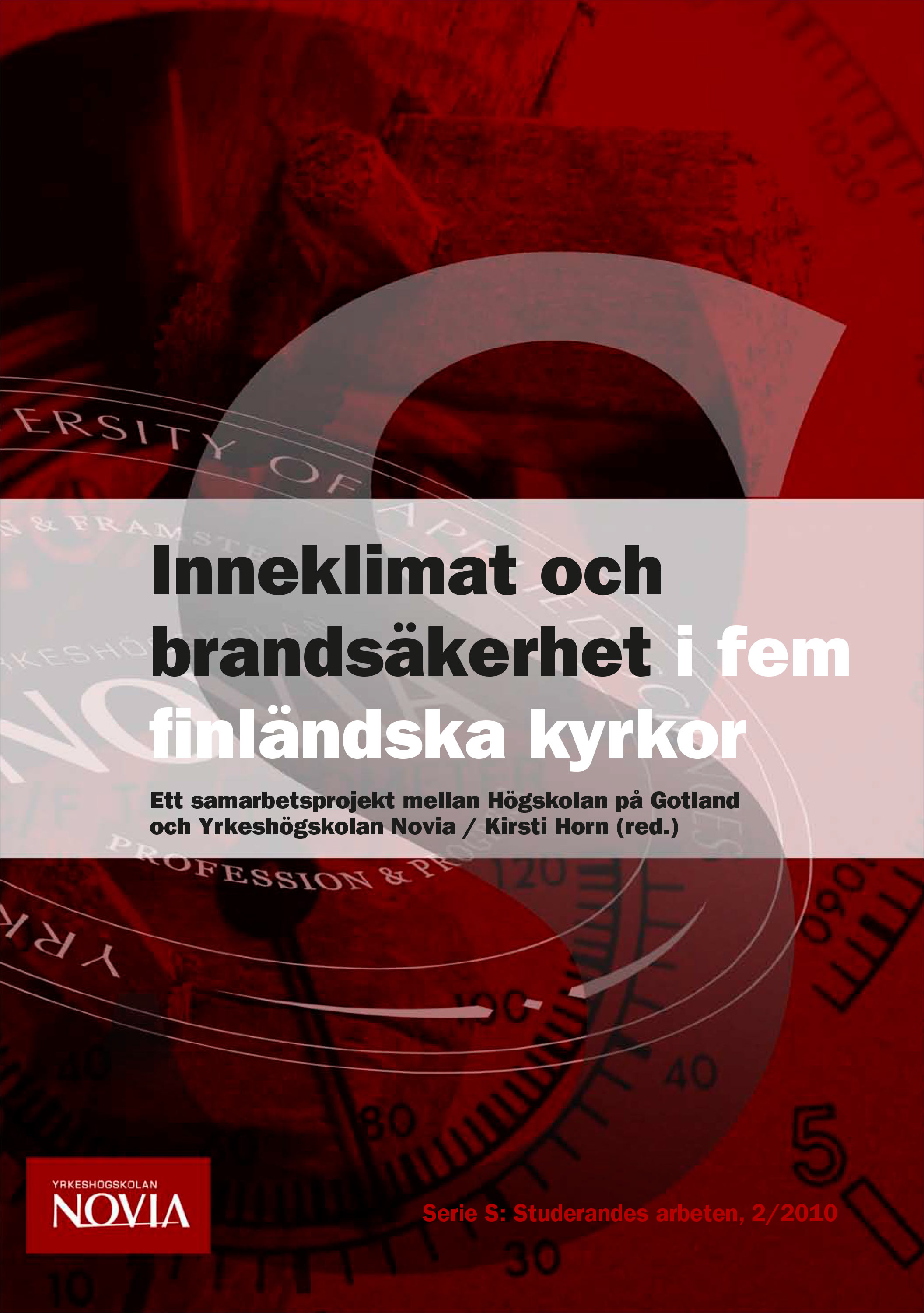 Inneklimat och brandsäkerhet i fem finländska kyrkor. Ett samarbetsprojekt mellan Högskolan på Gotland och Yrkeshögskolan Novia
Under hösten 2008 ordnade Yrkeshögskolan Novia tillsammans med Högskolan på Gotland en kurs om inneklimat i historiska byggnader. Den hölls i Ekenäs, Finland. Detta var den tredje specialkursen inom samarbetet, som baseras på ett gemensamt intresse för byggnadsvård vid Utbildningsprogrammet i byggnadsteknik i Ekenäs och Avdelningen för kulturvård i Visby. Samarbetet stöds av Nordiska rådet genom Nordplus stipendier för gästande studerande och lärare.
Inneklimatkursens digra program bestod av föreläsningar, studiebesök och ett övningsarbete. Övningen, vars resultat rapporteras här, koncentrerades kring inneklimat och brandsäkerhetsfrågor i sex olika kyrkor. Vi hoppas att såväl de berörda församlingarna som andra skall finna de bifogade rapporterna över iakttagelser nyttiga då de planerar underhåll, uppvärmning och brandsäkerhet för sina kyrkor. Vänligen observera att resultaten endast är vägledande. Varken författare eller handledare kan ta juridiskt ansvar för innehållet i denna skrift.
Övningens mål var lära förstå hur inneklimatet påverkar konstruktioner och inventarier av olika material. Av de sex kyrkor, som studerades, är tre byggda av gråsten, tre av liggtimmer. Fem är uppvärmda och en står kall. Dataloggers, som registrerade relativ fuktighet och temperatur, hade placerats i kyrkorna nio månader tidigare. Uppgiften var att registrera skador och söka lösningar genom att analysera inneklimatet. Rapporten gäller endast fem av kyrkorna och enligt församlingarnas önskan framgår det inte vilka de är.
Varje rapport innehåller åtminstone följande:
en beskrivning av kyrkans användning
en granskning av skador på föremål, ytbehandlingar och konstruktioner
en granskning av arrangemang för brandsäkerhet
en analys av det registrerade inneklimatet
förslag till förbättring av både inneklimatet och brandsäkerheten
Allmänt kunde konstateras att den relativa fuktigheten i inneluften – som är den avgörande faktorn i sammanhanget – varierade allt för mycket för att träföremål skulle kunna bevaras intakta.
English summary
The article describes a student research project concerning Indoor Climate and Fire Precautions in five Finnish Churches. This was a joint international project between Gotland University and Novia University of Applied Sciences. The goal was to learn how indoor climate and fire precautions can be designed in a fashion that supports the preservation of wooden constructions and artifacts. The purpose of this paper is to arouse awareness of the impact indoor climate has on historic buildings, furniture and fragile objects made of wood. At the same time we want to spread the knowledge to conservators, engineers, architects, builders and above all, to designers of heating systems.
The research methods
In order to record knowledge of the indoor climate a data logger was placed centrally in each church nine months before the intensive course for students. Measurements were then analyzed, the buildings examined and finally methods for the improvement of the indoor climate and fire precautions were suggested for the five different cases. Both teachers and students worked in groups of mixed nationalities.
The result
Finnish churches are generally over heated and the effect on wooden artifacts is devastating since high temperatures mean low relative humidity (RH) in the cold season when the air is dry. On the other hand we get rather high values of RH in late summer when the heating is off. The fact that wood reacts to these violent changes was evident in all the churches that were examined: serious cracking of both wood and paintwork could be found all over. The conclusion recommends two methods for the monitoring of relative humidity in the examined churches:
Lowering temperatures in winter (+ intermittent heating during services) and increasing them in summer.
Installation of hygrostats, which will automatically drop or increase heating in order to maintain a suitable and constant level of RH.
Most churches have up to date fire alarms, lightning rods, signs for emergency exits etc. but they all have one hazardous detail: a carelessly placed votive floor stand. Safety against fire could be improved in all churches by installing a metal tray underneath these.
Inneklimat och brandsäkerhet i fem finländska kyrkor. Ett samarbetsprojekt mellan Högskolan på Gotland och Yrkeshögskolan Novia / Kirsti Horn (red.)
– Vasa : Yrkeshögskolan Novia, 2010
Novia publikation och produktion, serie S: Studerandes arbeten, 2/2010
ISBN (PDF): 978-952-5839-18-0; (nid. / print): XXX
ISSN (online): 1799-4209; (print): XXX