The technique of grinding corn into flour by using wind power to turn a circular stone died long ago but the ingenuity of the machinery keeps us fascinated just like old cars or engines do. The fact that these machines are made by hand out of wood and that not two windmills are alike makes them all the more interesting. We are taking a closer look on historic windmills in Finland.
There are three types of windmills in Finland: post mills represent the oldest type; hollow post mills represent a type that dates back to the second half of the 18th century; and smock mills, which are called mamselli in Finland according to mademoiselles who wore the smocks, were also introduced in the late 18th century. Most of the surviving mills were built in the 19th century. According to Hirsjärvi & Wailes "smock mills were used by the manors; hollow post mills were built by the larger farmers, and post mills by smallholders". All Finnish windmills are made of wood with one exception. Today most of them are painted with red earth paint, and indeed, this is known to have been the tradition since long at least in the western and central parts of the country.
Windmill technology was brought to Finland from Sweden. Windmills were mentioned for the first time in 1463 in this eastern province of the kingdom. Towards the end of the 16th century their number is known to have grown to about 400. Over the centuries the technology spread from the southwest through the whole country. Water–powered mills always dominated in areas with waterways but windmills were built in great numbers over the next three centuries where fast flowing rivers and rapids are scarce.
Background
There was no overall information of the many windmills in Finland. The only documents with a general view are two maps—with few accompanying facts and figures—by Toivo Vuorela in his books Atlas of Finnish folk culture (1976) and Etelä-Pohjanmaan kansanrakennukset (1949). The first gives a graphic view about where the different types of windmills could be found in Finland before the First World War. The second illustrates the number of windmills in the year 1830.
For fresher information a request for a survey was sent to all regional museums in the country. The aim was to count the surviving historic windmills and get an idea of their state of repair. See our conclusion of the attained information…
Summary of Finnish Windmills
Here is the summary of a complete list of Finnish windmills, status as of spring 2014—where the condition of each windmill was evaluated roughly in three categories, A, B, C as follows:
condition A = good; structure, sails and machinery intact
condition B = OK; faults in roof or walls, eg. sails missing or machinery incomplete
condition C = bad; unsound or incomplete structure, sails and machinery missing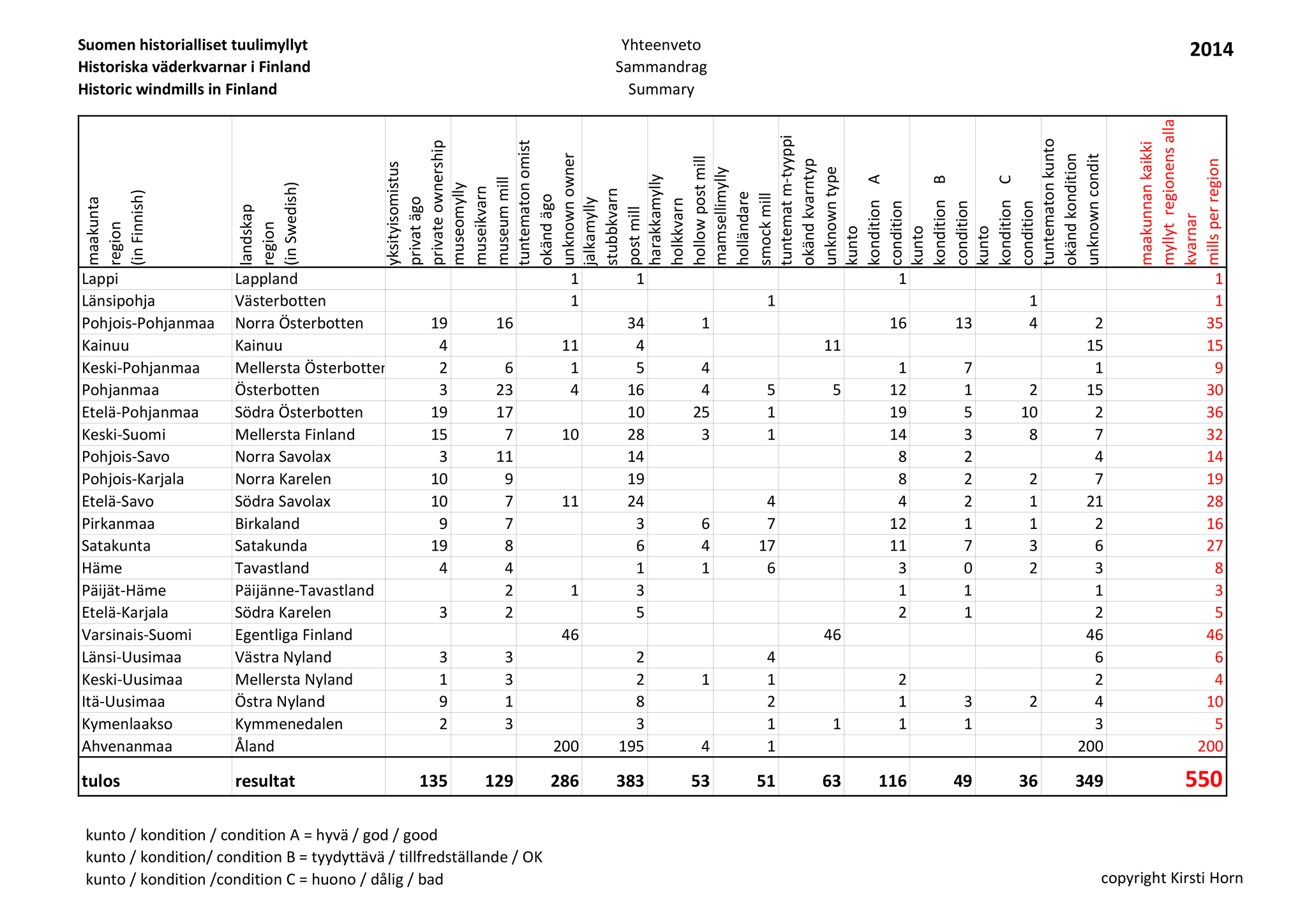 Historic Windmills in Finnland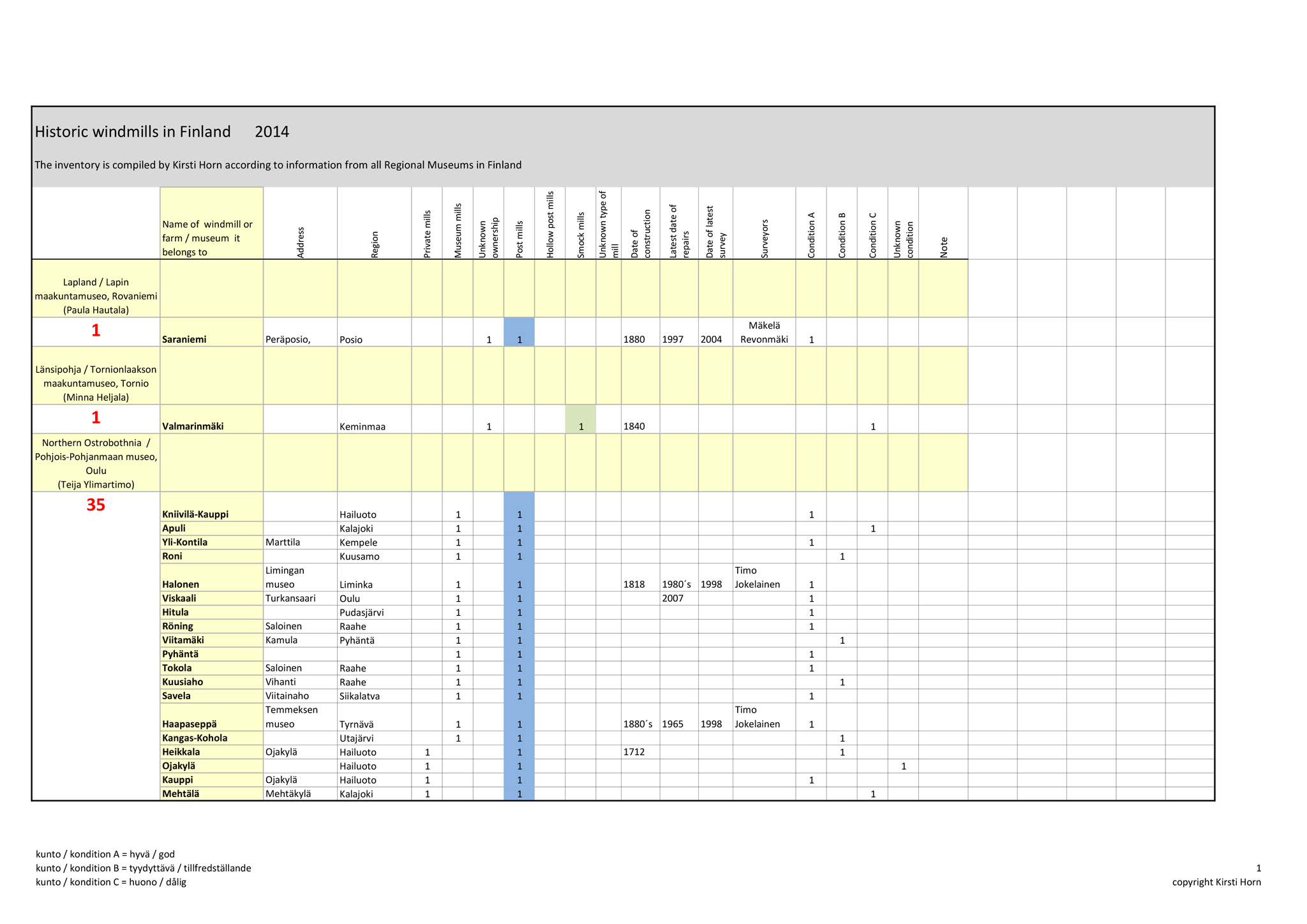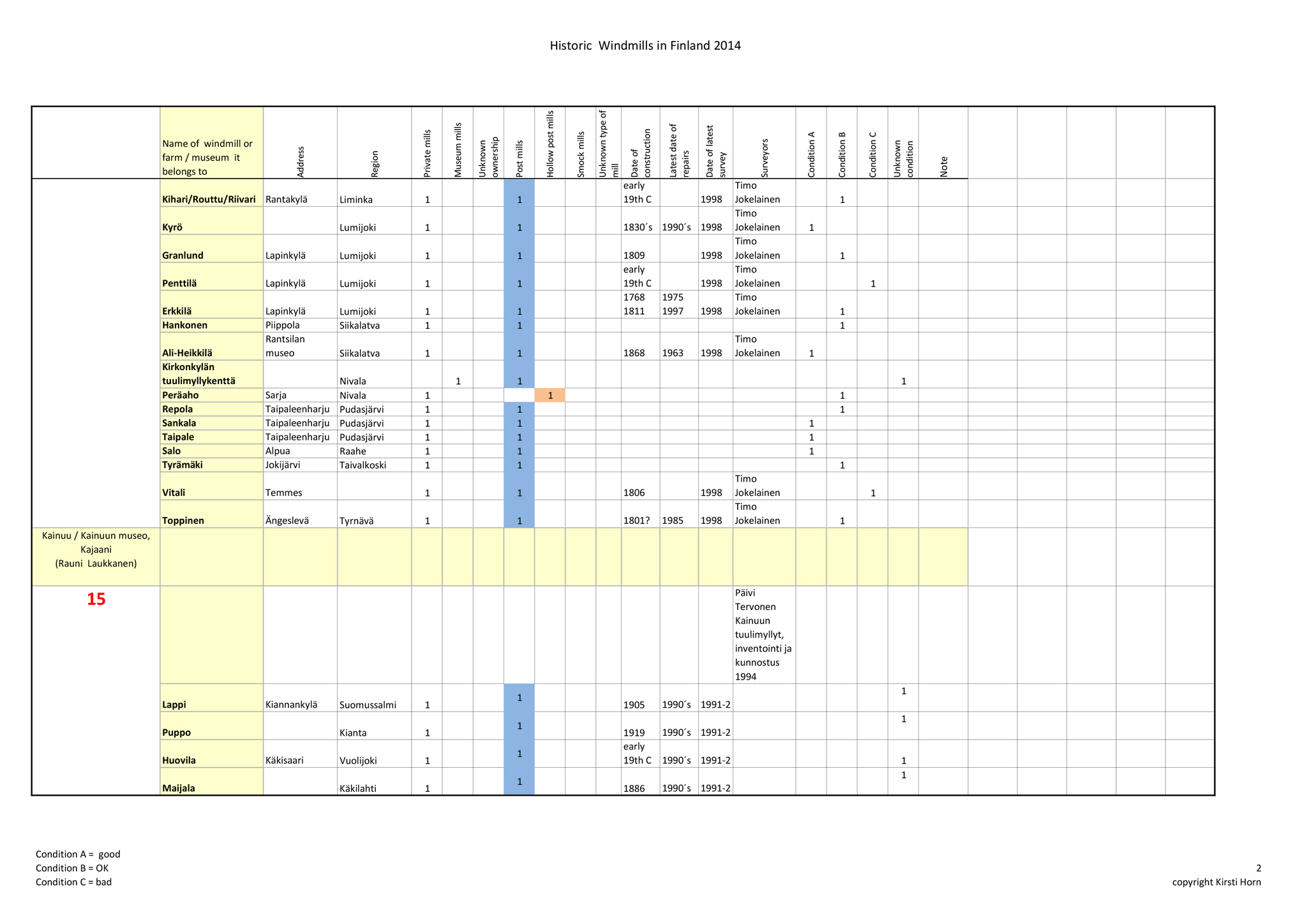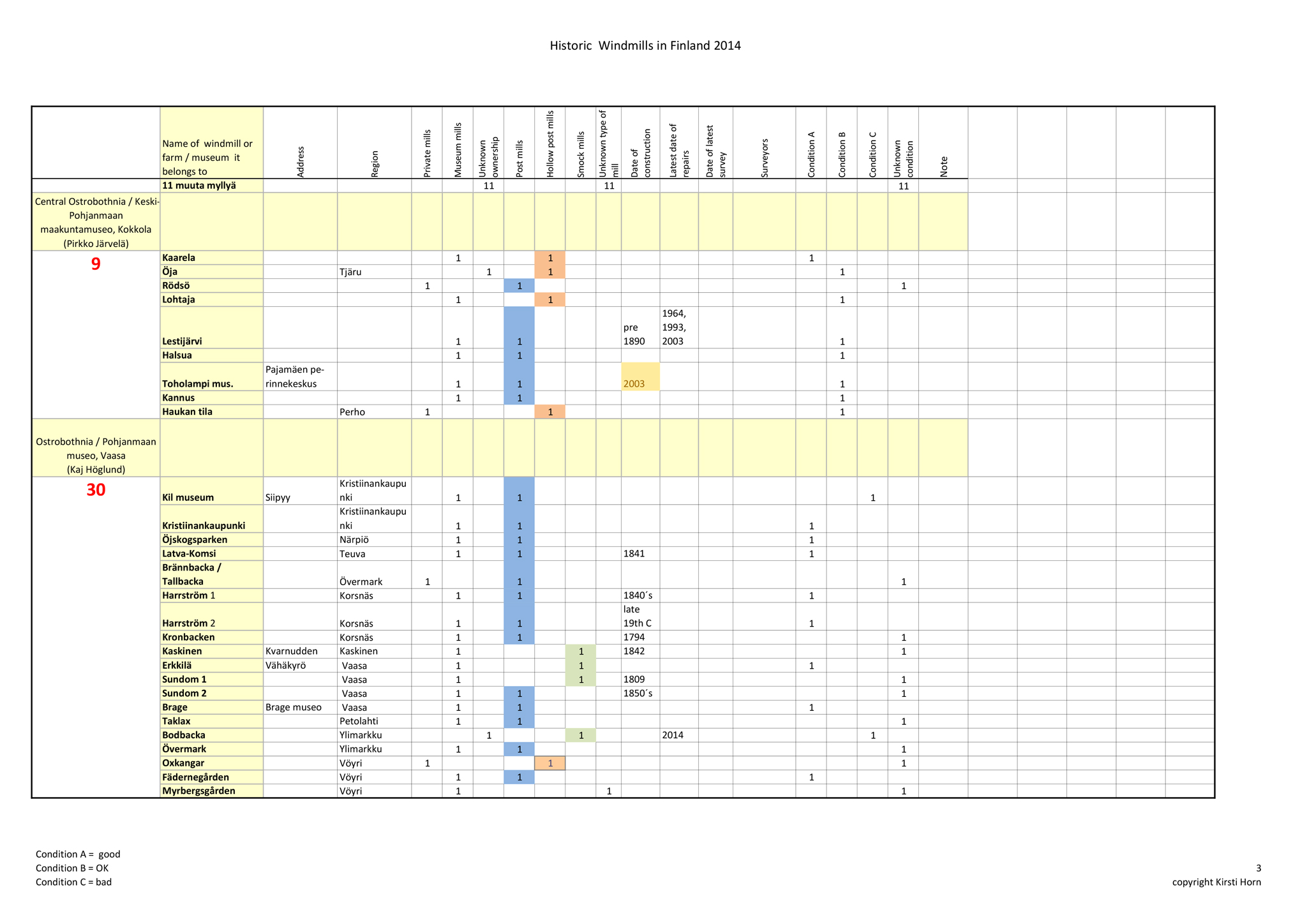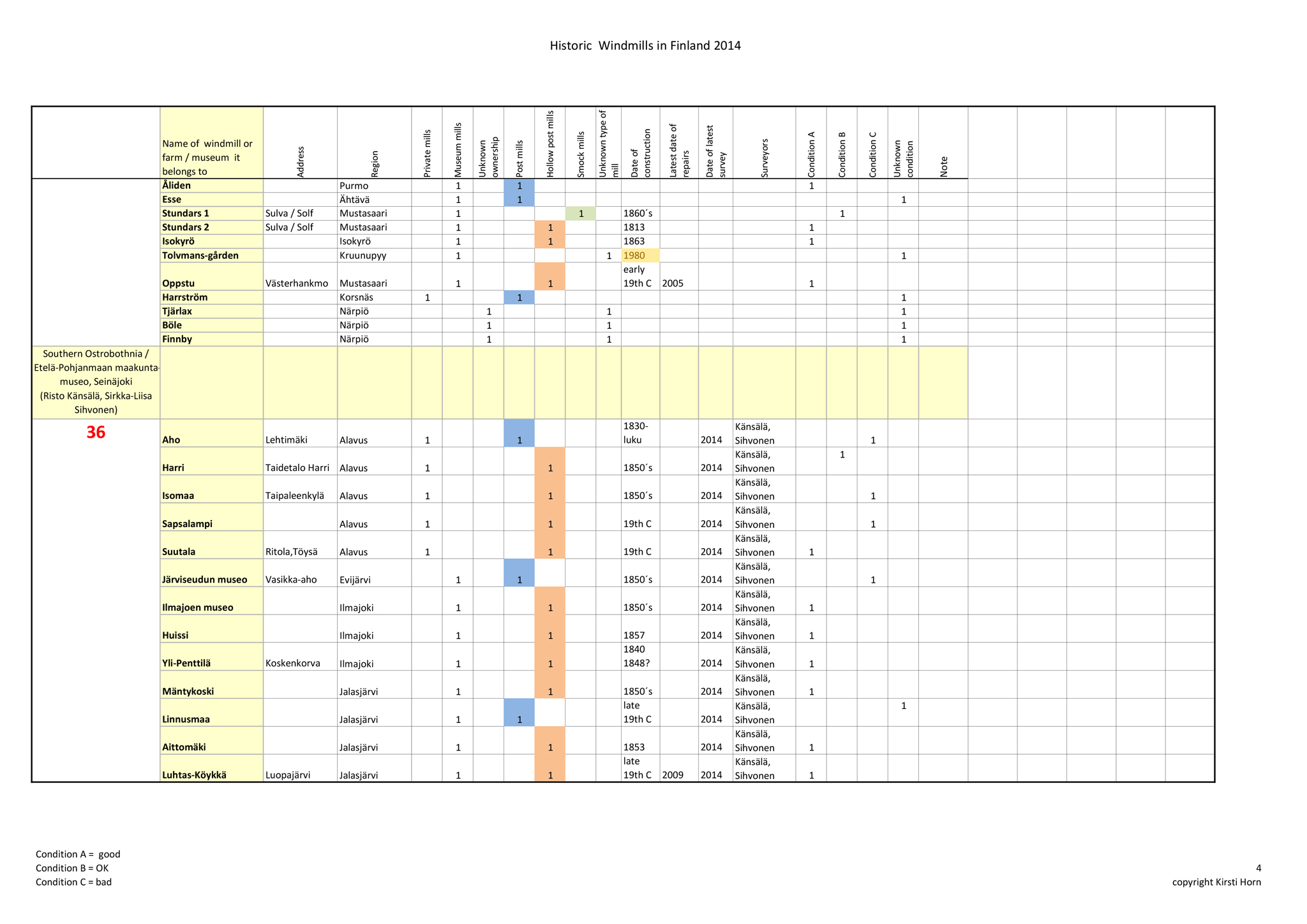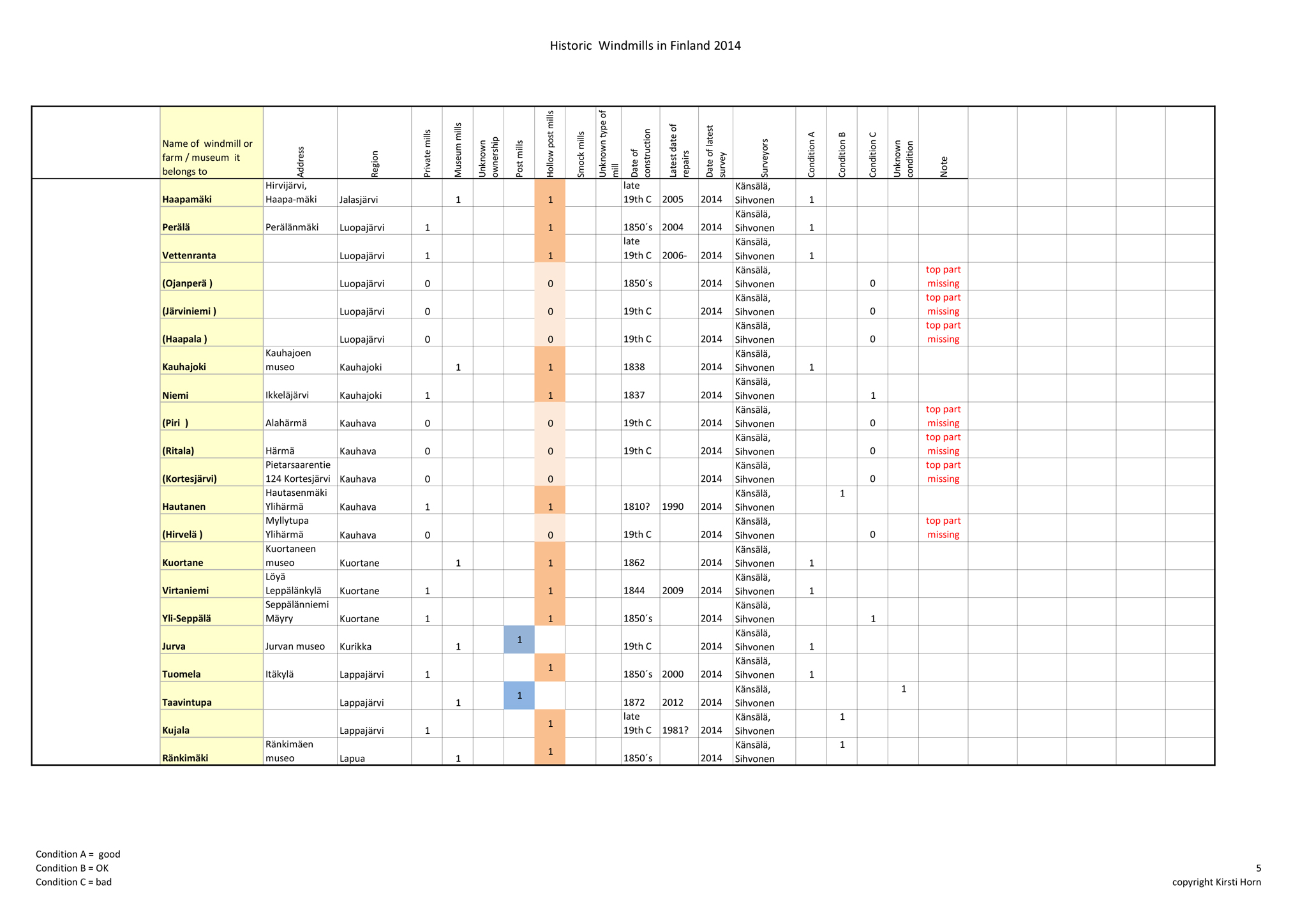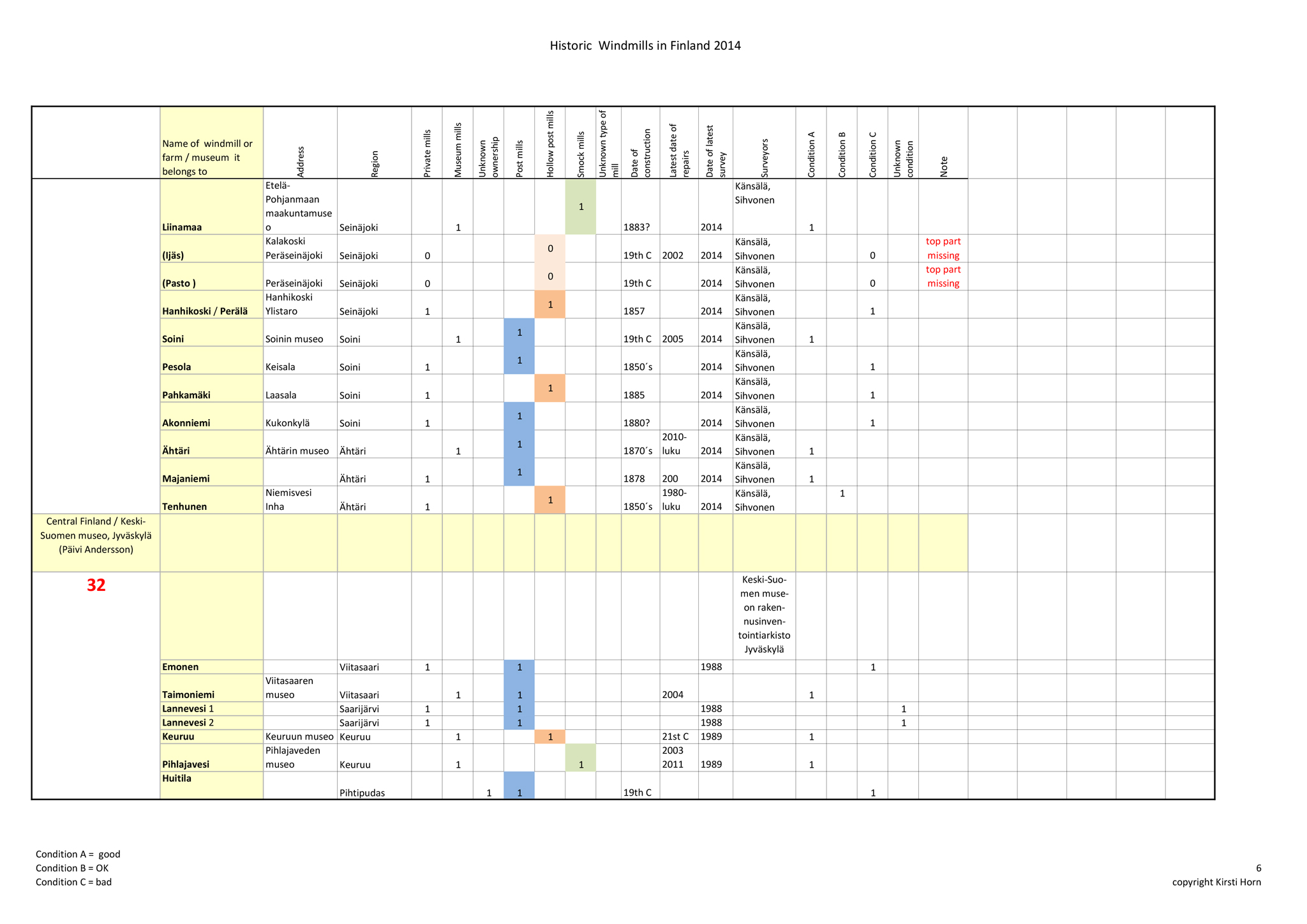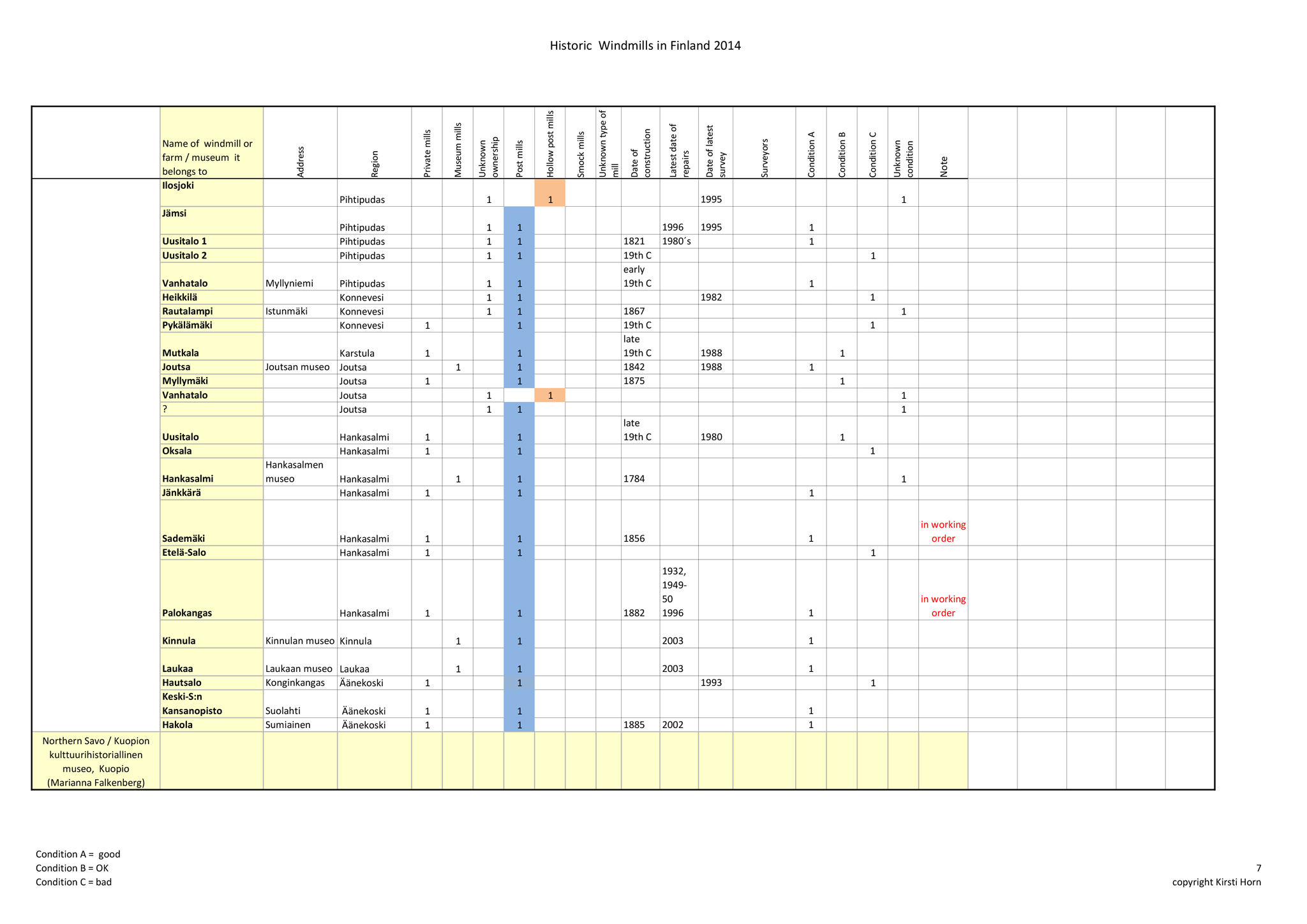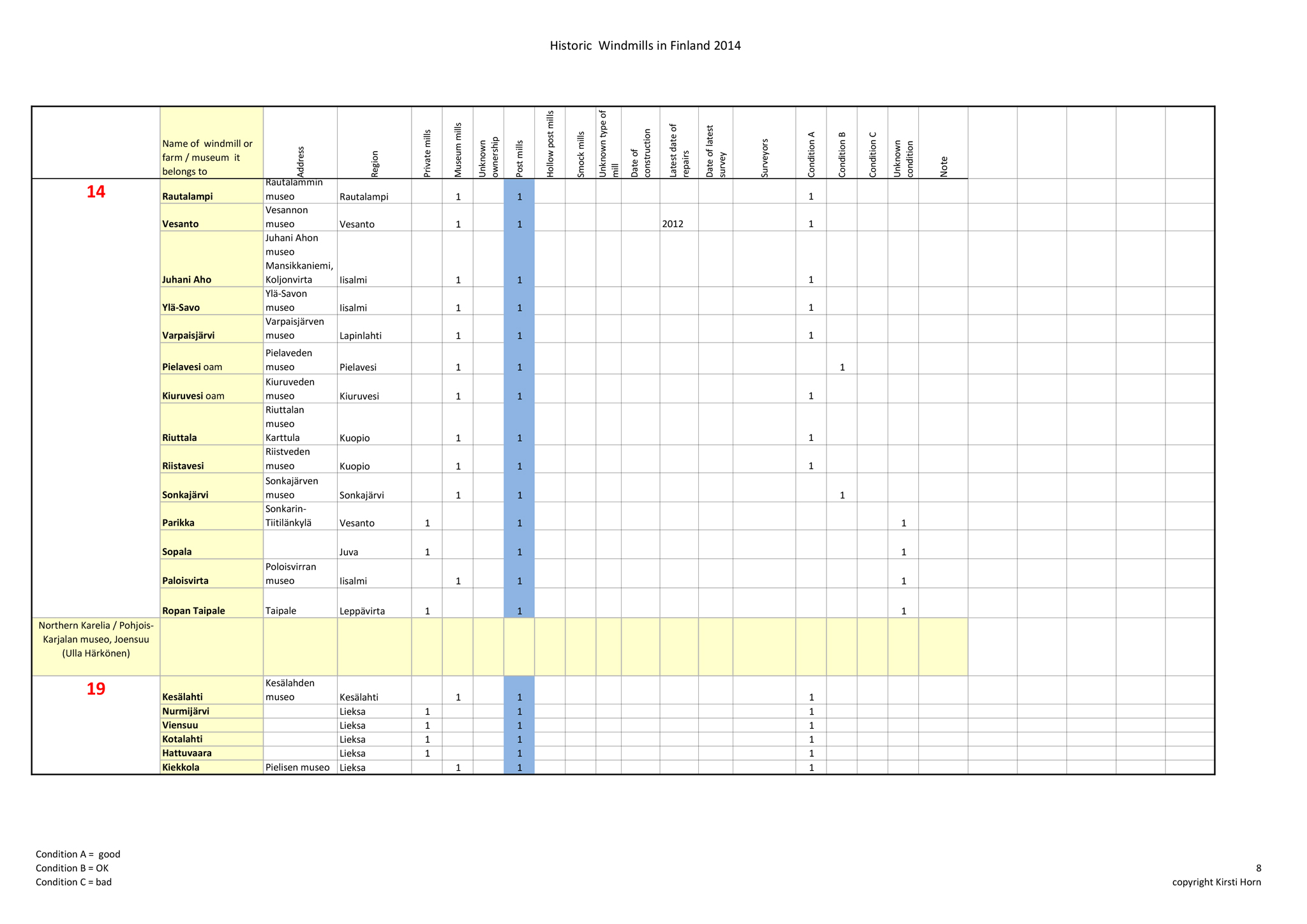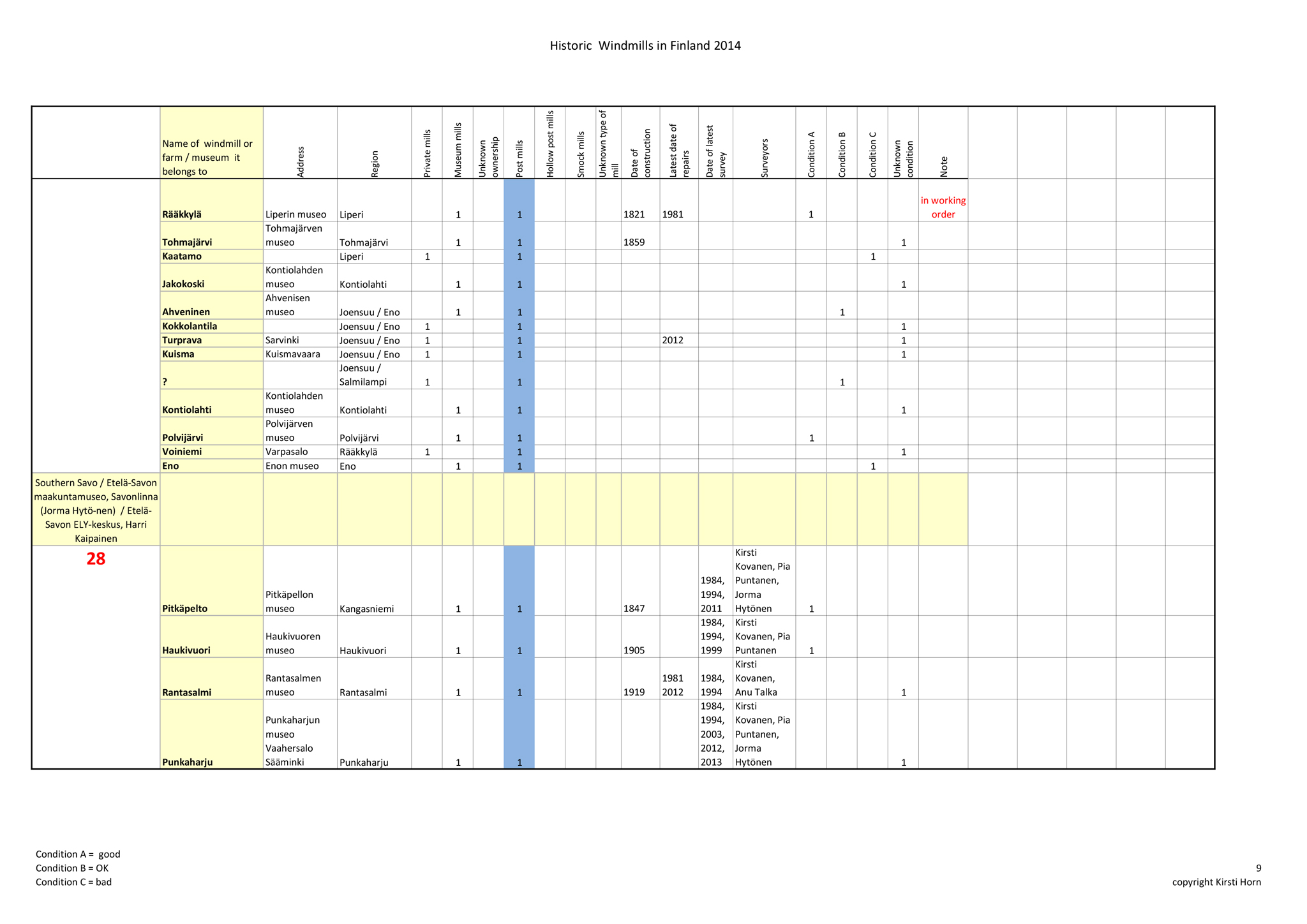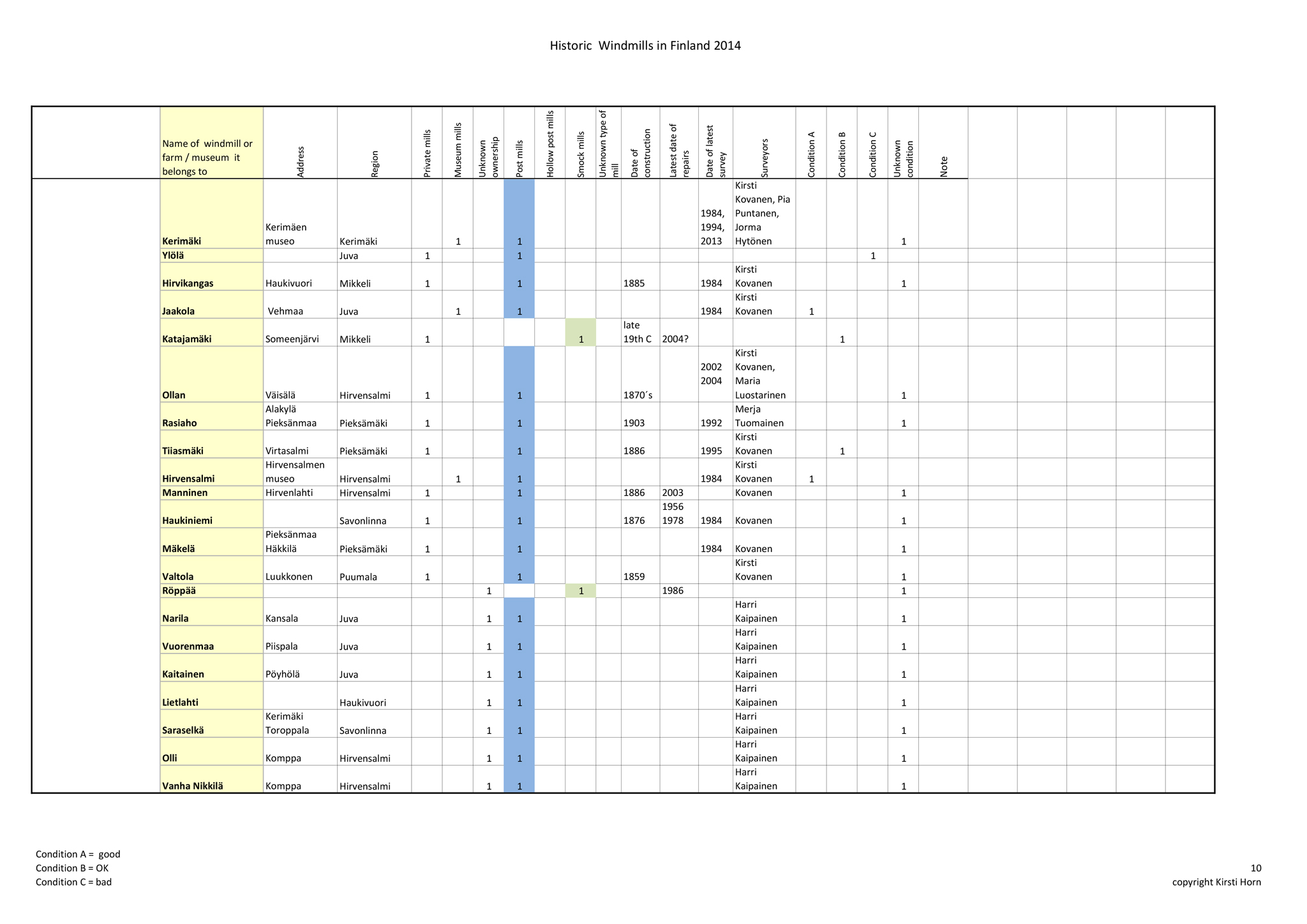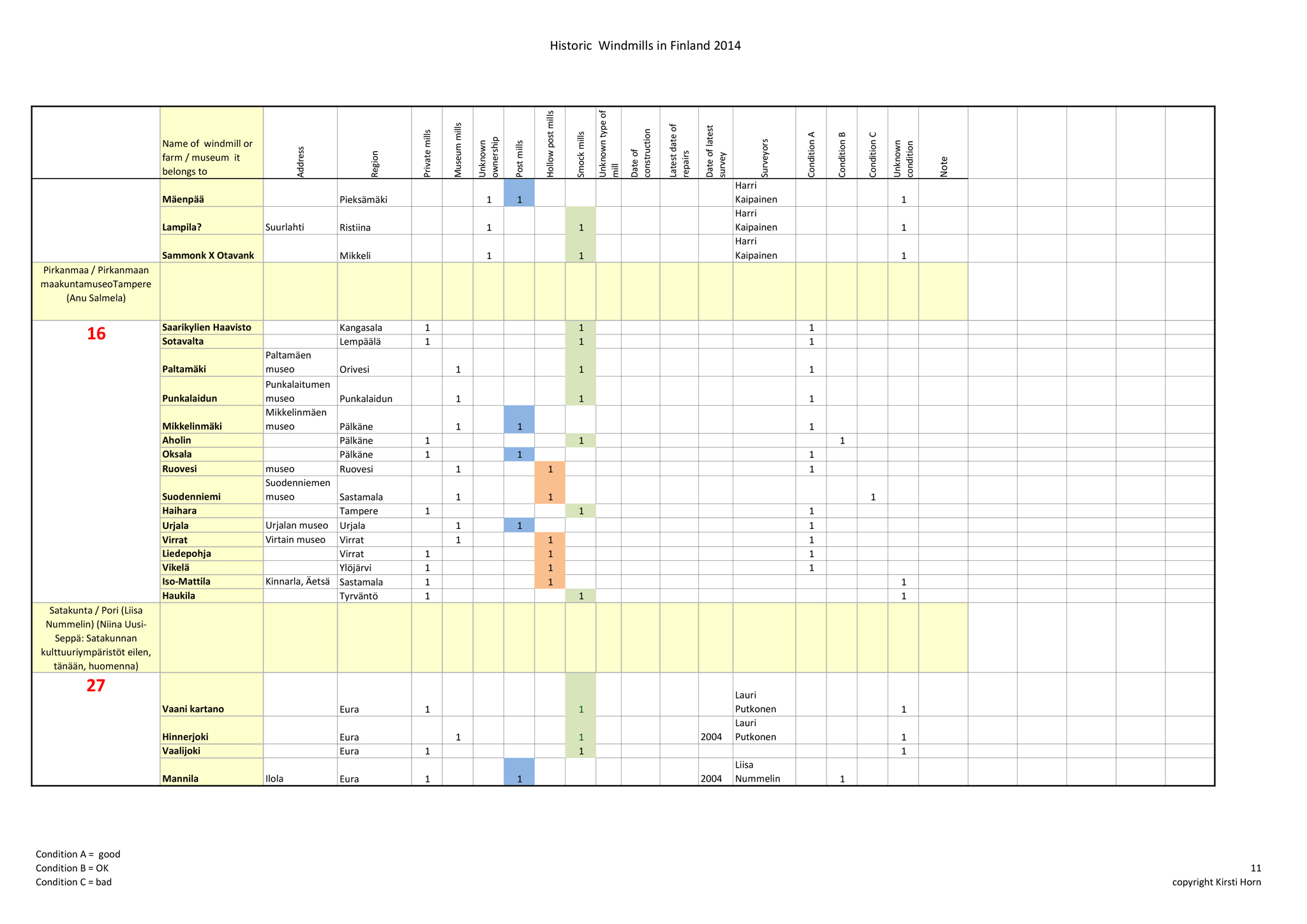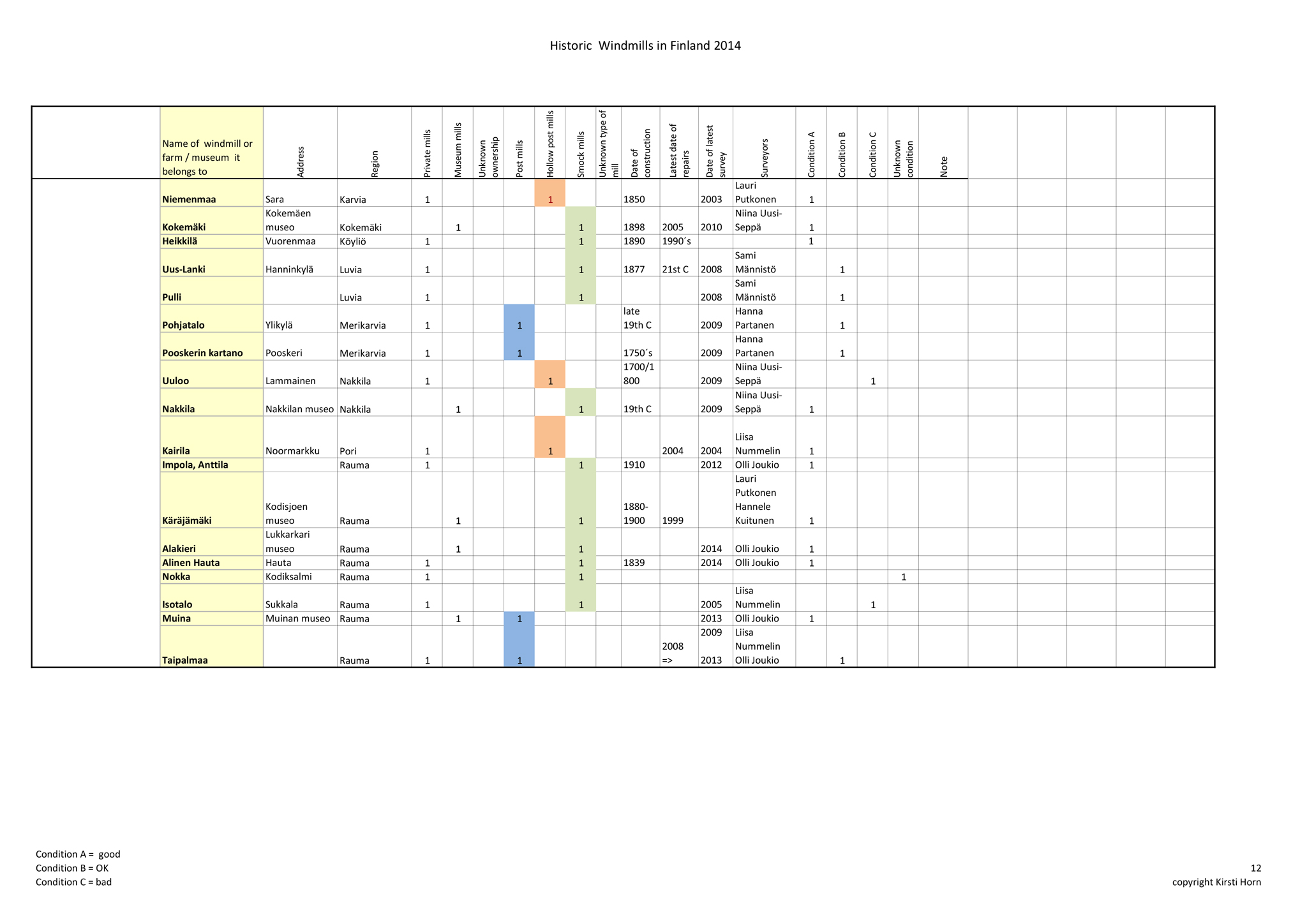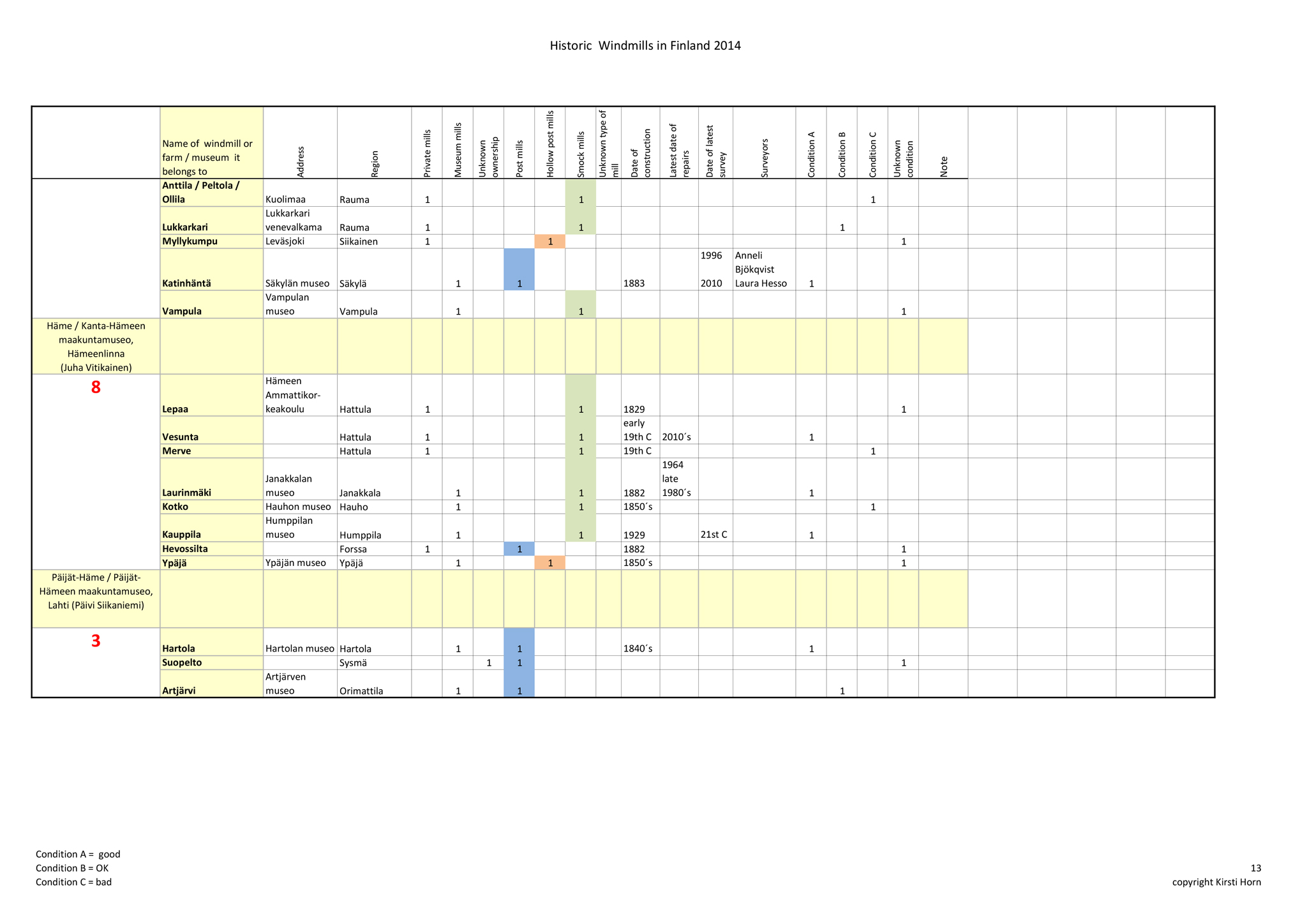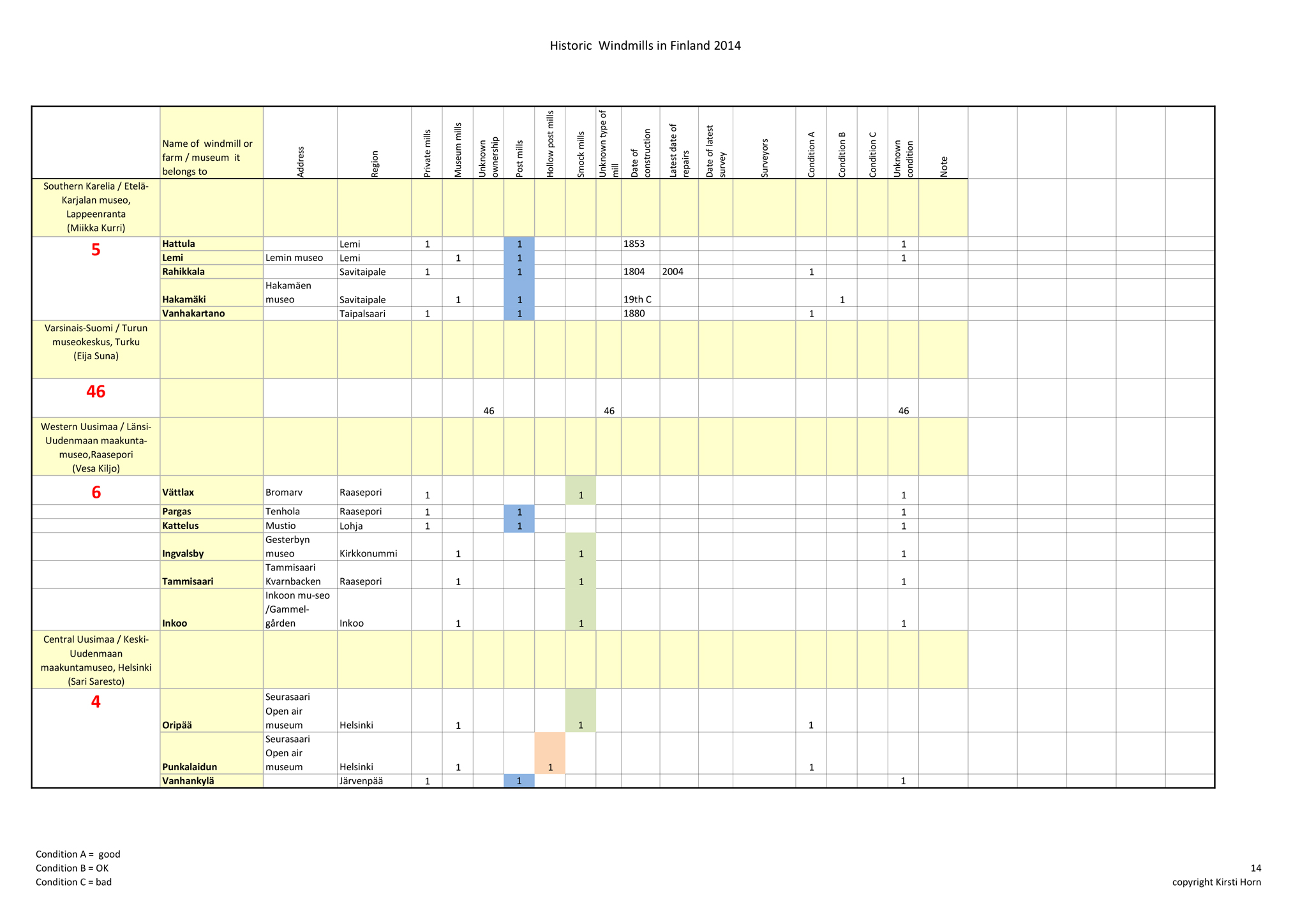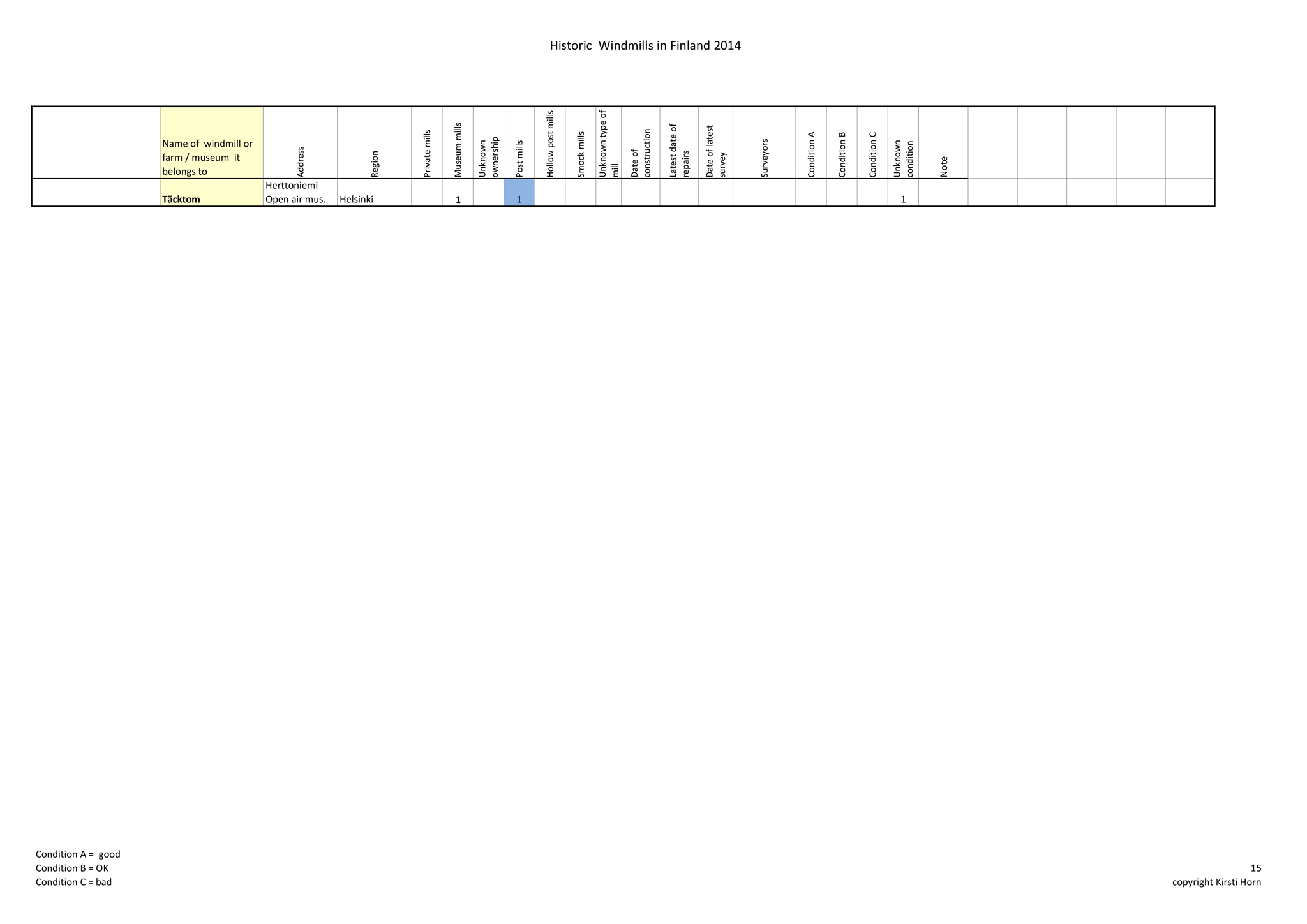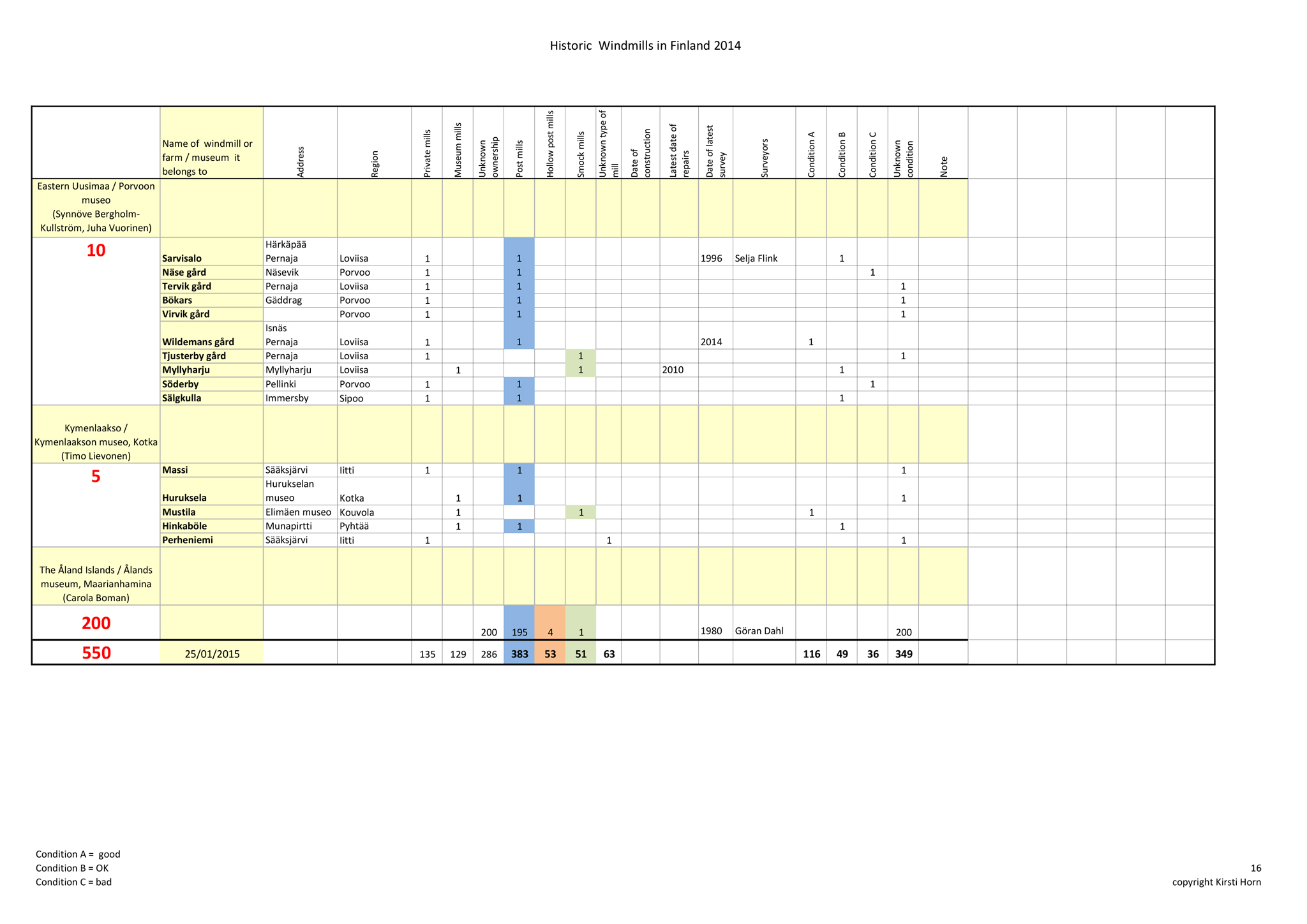 Special Thanks
The information about the number and state of the historic windmills in Finland was collected by the following curators and researchers at the regional museums in Finland and on Åland:
Windmill glossary in English, Estonian, Finnish and Swedish
The glossary of windmill terminology is based solely on the available literature and Internet sources. Despite its limitations it should help those who are inspired to go on studying the subject in these languages.
Estonian

Finnish

Swedish

type of mill
postmill
pukktuulik
jalkamylly, varvasmylly
stubbkvarn, stolpkvarn, fotkvarn
hollow post mill
harakkamylly
holkkvarn
smock mill, Dutch mill
Hollandi tuulik
mamsellimylly
hättkvarn, holländare
machinery
sails, sweeps
tiivad
siivet
vingar
sail bar
siiven varsi
kvarnarmar
wing stock, sail stock, middling, main spar
tiiva ige, ike
siiven apuvarsi
hjälparm
wind shaft
võll, võlv
siipiakseli, siipitukki
gångås, drivaxel
bearing
laakeri
lager
journal, neck
kaela tits
siipiakselin kaula
axelns hals
poll end, canister (cast iron)
siipiakselin etupää
kvarnhuvud, storände
tail end
siipiakselin takapää
lillände: axelns bakända
brake wheel
suurratas
suuri hammasratas / hammaspyörä
kronhjul, storhjul
cog
hammas
hammas
kugg
spokes
ardam
rattaan puolat
ekrar
brake
pidur
jarru
broms, pass, trög
wallower
värkel
lyhty, trälli
trellan, drevet, lyktan
upright shaft
pystyakseli, tantari, mäntä
kvarnaxel
spindle
pill, harkpill, argiraud
neularauta, väkirauta
trellnål, spindel
grinding apparatus
hopper
(vilja)kolu, korv
suppilo, tuutti
tratt för korn
trough
king, küna
porsas, ruuhi, karistin
ränna
millstones: runner stone, bedstone
veskikivid: kivitörskivi, krants
myllynkivet: päällyskivi, aluskivi
kvarnstenar: löparen, liggaren
stone casing, stone furniture
kiviraam
kivilaatikko, kahna
mjölkar: låda kring, kvarnstenarna
meal spout
jauhotorvi
rör för mjöl
meal bin
jahukirst
jauholaatikko, kahmalo, jauholaari
låda för mjöl?
structure
body
kere
myllyaitta
kvarnhuset
tail pole
veskisaba, sabapuu, vehmer
häntäpuu
vindhäst, kvarnhäst
breast beam, weather beam
siipiakselin etupäätä kannattava palkki
tail beam
siipiakselin takapäätä kannattava palkki
porch, balcony
kuisti
bro
post
sammas, emapuu, post
tukki, tammi
stubbe, stolpe
hollow post
pystypatsas
crown tree
pöörpakk, söömer, ematala
niskahirsi
hjärtstocken
trestle
raampakud
jalka
fot
ladder
trepp
tikkaat / portaat
stege / trappa
floor, deck
lava
silta, lattia
brogolv
kelkkaset
brostockar
collar (or bearing) above the sub-structure that carries the body
kääntölaakeri
sadel
cap
müts
hattu
hätta
References
Auvo Hirsjärvi, Rex Wailes. Finnish Mills, Part I: Watermills, Part II Mamsel or Smock mills, Part III Hollow Post Mills and Part IV: Post Mills. The Newcomen Society, 1968–73.
Toivo Vuorela. Suomen kansankulttuurin kartasto 1 — Atlas of Finnish Folk Culture SKS 1976, ISBN 951-717-099-8, ISSN 0355-1768, Old map of windmills.
Toivo Vuorela. Suomalainen kansankulttuuri 1975. ISBN 951-0-07190, 951-0-07190-9.
Toivo Vuorela: Etelä-Pohjanmaan kansanrakennukset 1949.
Timo Jokelainen. Lakeuden tuulimyllyt. Oulun Yliopiston julkaisu C65, ISBN 951-42-4981-X.
Historiallinen maatalous; Helsingin yliopisto. http://www.helsinki.fi/kansatiede/histmaatalous/maanjaot/voimakoneet.htm
http://museovirastorestauroi.nba.fi/muut-kohteet/tuulimyllyt
Eriksnäsin tuulimyylyn restaurointisuunnitelma. Kymenlaakson ammattikorkeakoulu, 2009. https://www.theseus.fi/handle/10024/5031
Website of the International Molinological Society (TIMS) — active since 1965, and the only organization dedicated to mills at a worldwide scale.